PacMan Series 7, NetBook

Version 2.01b
---
Some user comments :
Quelques commentaire d'utilisateurs :
P.J. Lambrecht : "I think you did a fantastic job ! Without a doubt the best game for the S7/netBook around at the moment..."
P.J. Lambrecht : "Je pense que vous avez fait un travail fantastique ! Sans aucun doute, c'est le meilleur jeu pour Series 7/NetBook du moment..."
K. England : "it makes the best use of the colour graphics of any programme I've seen yet and plays well."
K. England : "Ce jeu utilise les graphismes en couleur mieux que n'importe quel programme et est agréable a jouer."
PacMan is an EPOC clone of the original Pacman game from Namco (c)
PacMan est un clone pour EPOC du jeu original PacMan de Namco (c)
The game is close to the original in terms of style of play and scoring. Featuring a magnitude of graphic effects, digital sounds, and even a two player mode. For hardened retro-gamers, PacMan is simply a must for you and your Psion!
Le jeu est proche de l'original du point de vue du style de jeu et de la gestion des scores. Au menu : une multitude d'effets graphiques, de sons digitaux et même un mode deux joueurs. Indispensable aux joueurs avide de jeux rétro ! PacMan est tout simplement un "must" pour vous et pour votre Psion !
ScreenShots
Copie d'écrans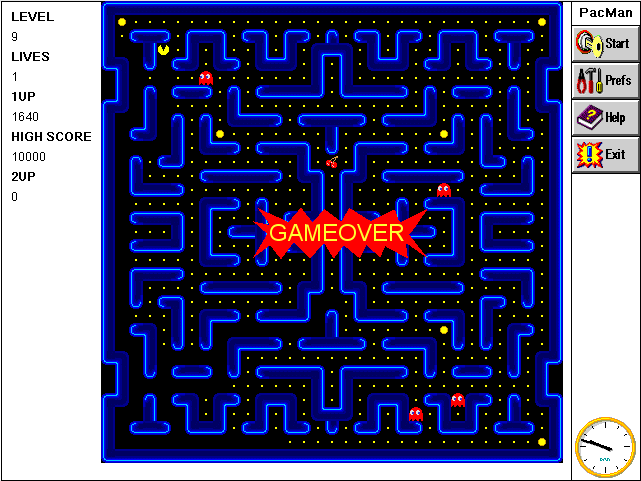 Fact files
Caractéristiques
100% pure addictive gameplay!
100% de pur plaisir !
Ultra fast animations
Animations ultra-rapides
Authentic digital sound effects
Effets sonores authentiques
Hi-score table
Table des plus hauts scores
13 built-in levels (registred users)
13 niveaux pré-définis (version enregistrée seulement)
Fully-featured level editor (registered version only)
Editeur de niveaux complet (version enregistrée seulement)
Two player mode
Mode 2 joueurs


Pause and Surrender option
Option "Abandon" et "Pause"
Full on-line help
Aide en ligne complète
Auto-pauses when switching to other applications
Pause automatique lors du basculement vers d'autres applications
Available in English, French and Dutch
Disponible en Francais, Anglais et Néerlandais

256 colors 640x480 pixels full screen graphics
Graphismes plein écran 640x480 pixels en 256 couleurs
Full colored application icons
Icones de l'application entièrement en couleur
ScreenShots of PacMan Levels (registred users only)
Copie d'écrans des niveaux de PacMan (Utilisateurs enregistrés)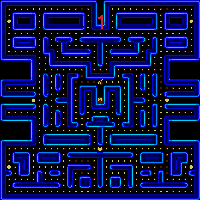 ScreenShots of Level Editor
Copie d'écrans de l'éditeur de niveaux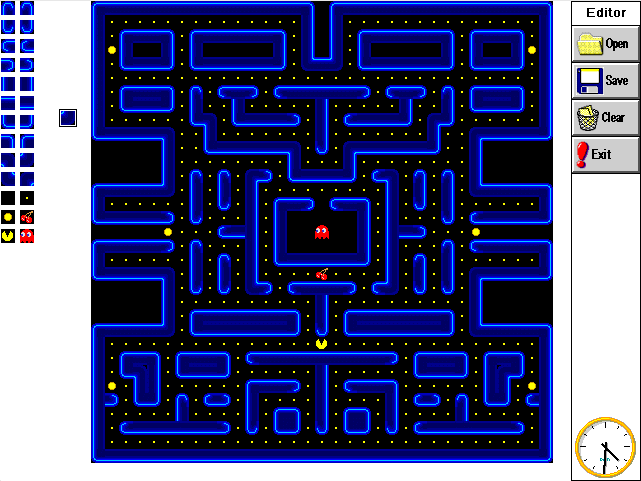 Download it! Check the download page !
La version 2.01b est dispo ! Allez à la page Téléchargement !